General Radiology Physics Services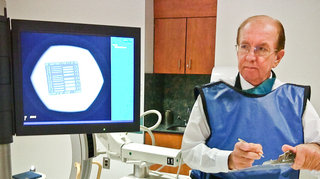 General Radiology Physics Services
Provide radiation protection surveys on all new or repaired radiographic equipment.
Provide performance evaluations annually as required by JCAHO or ACR for all radiographic and fluoroscopic equipment.
Provide monitoring of patient doses from diagnostic radiology procedures as required by JCAHO. Includes radiation output measurements and organ dose calculations for each installation.
Check Fluoroscopic output and Image Intensifier functions.
Monitor personnel exposure records, evaluate overexposure if necessary.
Inservice (orientation and continuing) for staff on radiation safety, protection, and regulations.
Lead apron and glove checks.
Provide consultation in establishing/maintaining hospital based quality assurance programs.
Provide radiological physics consultation in establishing policies and procedures as required by JCAHO. Policies will be reviewed annually.
Provide consultation in equipment planning, writing specifications for purchases.
Additionally, Bio-Med can provide:
In-house survey meter calibration and repair at our facility
Shielding Design
Acceptance testing of new equipment
Consultation over telephone
On-call (off-duty) service