Nuclear Medicine Physics Services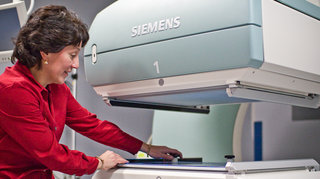 Nuclear Medicine Physics Services
Consultation regarding new procedures, regulations, radiopharmaceuticals, dosimetry, computer software, etc.
Radiation Protection Survey.
Audit radiation protection procedures for compliance with federal, state, and JCAHO regulations. Includes review of ALARA and Quality Management programs.
Calibration and quality control of dose calibrators.
Provide in-service (orientation and continuing) required by NRC, JCAH to nuclear medicine, laboratory staff, nursing, housekeeping and security.
Participate as a member of the Radiation Safety Committee.
Provide radiological physics consultation in establishing policies and procedures as required by JCAH. Policies will be reviewed annually.
Monitor personnel exposure reports and evaluate overexposures as needed.
Establish a quality control program for all diagnostic imaging and non-imaging equipment.
Establish a Radiopharmaceutical quality control program.
Sealed source contamination wipe tests.
Assist in preparations of a license amendment or renewal.
Provide consultation in equipment planning, writing specifications for purchases.
Additionally, Bio-Med can provide:
Survey meter calibration and repair at our facility
Shielding design
Acceptance testing of new equipment
Consultation over the phone
On-call (off-duty) service